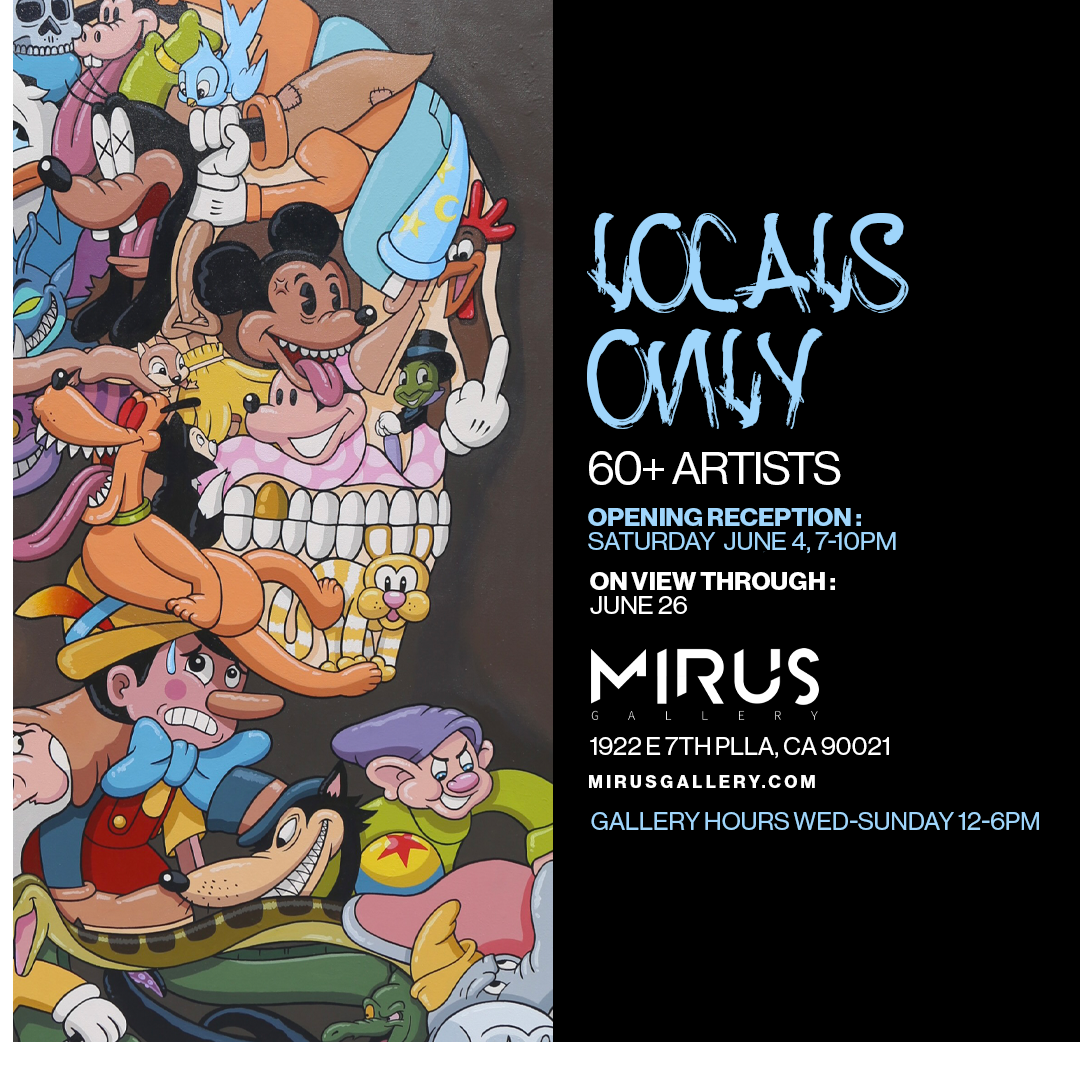 LOCALS ONLY: Los Angeles Closing Reception
Mirus Gallery closes out the acclaimed Locals Only group exhibition June 24 
About this event
Join Mirus Gallery Los Angeles Friday June 24th 6-11pm, for the closing reception of the acclaimed LOCALS ONLY, a dynamic group exhibition featuring over 60+ Los Angeles based artists.  Many of the featured artists will be in attendance. This event is free and open to the public, all ages. The exhibition is on display through June 26, open daily Wednesday – Sunday 12-6pm.
About the Exhibition:
Mirus gallery is proud to present our first annual LOCALS ONLY exhibit of Los Angeles. We are always on the lookout for new talents to represent in our gallery, and have hosted exclusively local exhibits in both our San Francisco and Denver locations for years. Now we are bringing the love to LA!
Featured Artists:
Abby Aceves, Adam McCarthy, Addendum24, Alex Achaval, Allison Bamcat, Analy Nakat, Andrea Guzzetta, Ange Cox, Another Supermoon, Anthony Ausgang, Antonio Pelayo, Bair Brains, Bodeck Luna, Brady Willmott, Brandon Hurley, Brittney S. Price, Cody Jimenez, DEB, Diana Flores, Dylan Thomas Brooks, Fabez, Henry Lewis, Ignacio Mejia, Isaak Pelayo, Jack Winthrop, Jade Bell, Jaime Guerrero, Jaime Zacarias, Jared Yamahata, Joey Stupor, Joon The Goon, Kahla, Kevin Earl Taylor, Ki Park, Las Chicas Peligrosas, Lauren YS, Leah Smithson, Mara Sandoval, Mars, Mear-One, Mister Toledo, Moses Ball, Mufasa, Mus Musculus, Nina Palomba, Olympia Altimir Galvez, Phobik, Relos, Ron The Killer, Roshi, Ryan The Foe, Samantha Maserati, Sean Keeton, Shane Izykowski, Stephanie Inagaki, Tati Holt, The Obanoth, Travion Payne, YANOE, ZLA