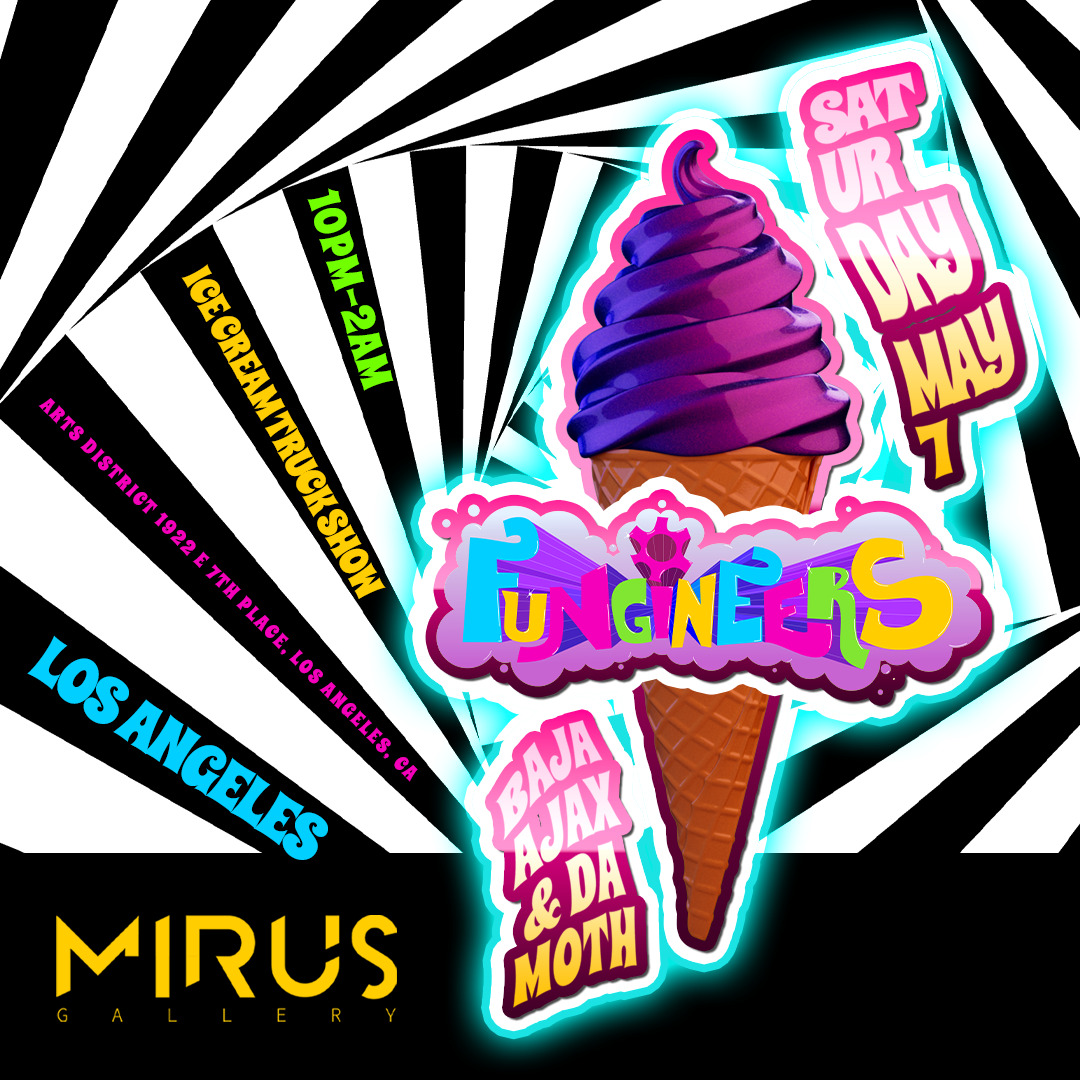 Fungineers Ice Cream Party
BEEP BEEP! The Fungineers Ice Cream Truck is pulling up to Mirus gallery for a majestic fun ice cream party!
You will have access to the amazing NYCHOS the awakening show in the gallery and the ice cream truck will be rocking all night long outside! multiple bars and cozzy spots to chill !
10pm Baja Ajax
11pm Da Moth
Midnight FUNGINEERS FULL SHOW
The Awakening is a novel oeuvre by artist and muralist NYCHOS, presented by Mirus Gallery in the heart of the Los Angeles Arts District. Step inside a completely new realm of an immersive art experience as NYCHOS takes you on a journey of rebirth. The Awakening: will feature more than one hundred original art works from the famed artist, which are arranged in a deeply personal narrative. This museum style show shares Nychos' compelling story of personal introspection through large scale paintings, interactive artworks, projection, animation, sculptures and more.
The Awakening describes a process rather than a specific moment in time and space. It is a body of work that tells of suffering, insight, and healing and of falling As NYCHOS is reassembling, his art does too. His well-known Dissections transform into complete figures held together by luminous translucent shells. Anatomy remains the basis of NYCHOS' works. At the same time, it forms a gateway to a more elaborated understanding of life and death. Both topics are visited in recurring cycles throughout the exhibition, finally merging into one big multi-dimensional experience for the observer.
About the Artist:
Breaking surfaces, seeking depths – layer by layer. Driven by an insatiable curiosity, NYCHOS creates art in order to examine a question that has always been with him: How deep can you go? NYCHOS is an alter ego, created by a kid who grew up amidst a clash of cultures: A world, where Austrian Tradition and its Hunting Culture meets Eighties Pop Culture, Comic and Television. The visual input from back then still contributes to the output of the adult. By the means of anatomy, NYCHOS investigates the living species across different contexts and different media. His favorite tool is the spray can, his favorite surface is large. Questioning contrasts, he unifies looseness and accuracy. Severity and irony. The inner and the outer world. The dark and the bright. And most importantly, life and death. Within his oeuvre, one embraces the other. All becomes one.
NYCHOS creates art from deep within his soul. Deeply rooted in Graffiti and shaped by the visual inputs of his early years, his work comprises murals, fine art, illustrations, sculptures and animations.
NYCHOS is the founder of Rabbit Eye Movement, co-founder of THE WEIRD and member of the LORDS crew. His artworks have been exhibited worldwide and his large-scale murals give character to cities all across the globe. He currently lives and works both in Vienna, Austria and Los Angeles, California.