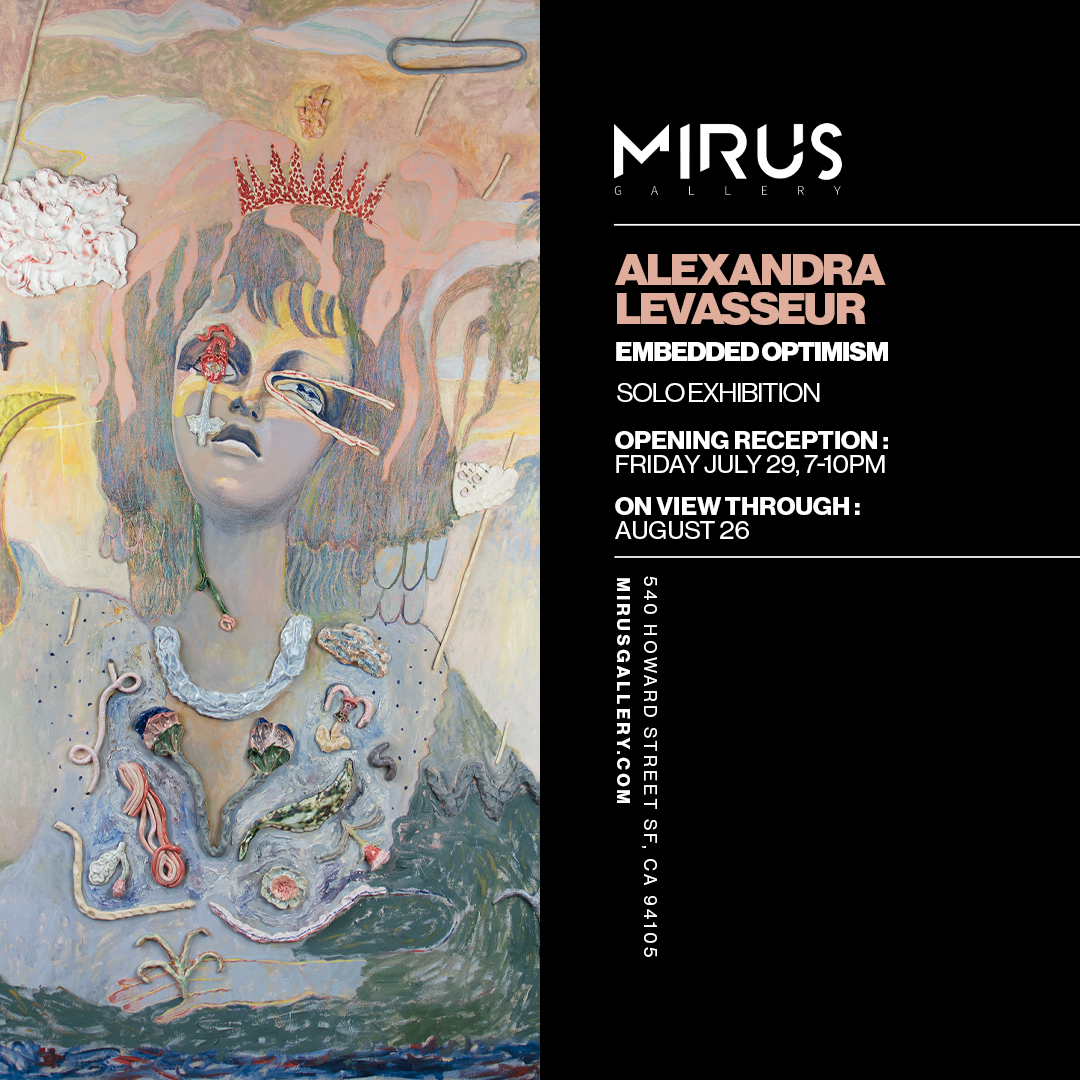 Alexandra Levasseur: EMBEDDED OPTIMISM
Mirus Gallery is pleased to present EMBEDDED OPTIMISM, a solo exhibition by artist Alexandra Levasseur. EMBEDDED OPTIMISM aims to play in the unification of ceramics and paintings to tell stories of nature as well as the mythological. EMBEDDED OPTIMISM opens July 29th, with an opening reception from 7-10 pm.  The exhibition is free and open to the public for viewing through September 30th.
About the Exhibition: 
Through painting, sculpture and animated films, Alexandra Levasseur intends to illustrate an ideal relationship between humans and nature. Her work is driven by a deep interest in, on the one hand, physics and biology and, on the other, mythology and the mystical interpretations that one can draw from nature, in order to expose the surrealism of the world. By adding sculpted elements to her paintings, she creates scenes in which the subjects are connected to their environment, emotionally embedded to the landscape. She is particularly interested in the physical imprint that is inscribed in the material as a testimony to the act of human creation. This exhibition entitled EMBEDDED OPTIMISM presents works that combine painting,drawing and ceramics on wood panels.
About the Artist:  
Alexandra Levasseur is a painter, sculptor and filmmaker born in Quebec in 1982. She holds a BA in Fine Arts from UCR, Costa Rica (2006), a post-graduate in Illustration from EINA, Barcelona (2008) and a major in film animation from Concordia University, Montreal (2014). She was awarded scholarships for academic excellence from Blairmore Foundation (2013) and Turtle Creek Asset Management (2014). She has participated in several film festivals and exhibitions around the world. She received a grant from Canada Council for the Arts for her last film project (2017). Since 2018, she has been exploring the medium of fired clay for her sculptures but also as a painting material. She lives and works in Montreal.
Gallery Contact:  Irene Hernandez-Feiks
Hourly Schedule
Monday
Tuesday
Wednesday
Thursday
Friday
Saturday - CLOSED
Sunday - CLOSED